Archive
De Vicenzo's new, permanent place
BERZATEGUI, Argentina—Late in his life, after he was no longer able to play golf, Roberto De Vicenzo would leave his home a few blocks away and travel to Ranelagh Golf Club. After eating lunch, he would position himself on the terrace right behind the ninth green and the first and 10th tees. From there, he would watch the members tee off and putt. He always enjoyed himself, still able to be around the game he loved. Occasionally, De Vicenzo would leave his seat, walk to the first tee, grab a member's club and hit a ball for them.
Saturday evening, Ranelagh Golf Club, in conjunction with the PGA TOUR Latinoamérica tournament honoring the World Golf Hall of Famer—the Roberto De Vicenzo Memorial 100 Years—unveiled a statue dedicated to the player who won more tournaments (230) than any player in history, the man who put the sport on the map in Argentina.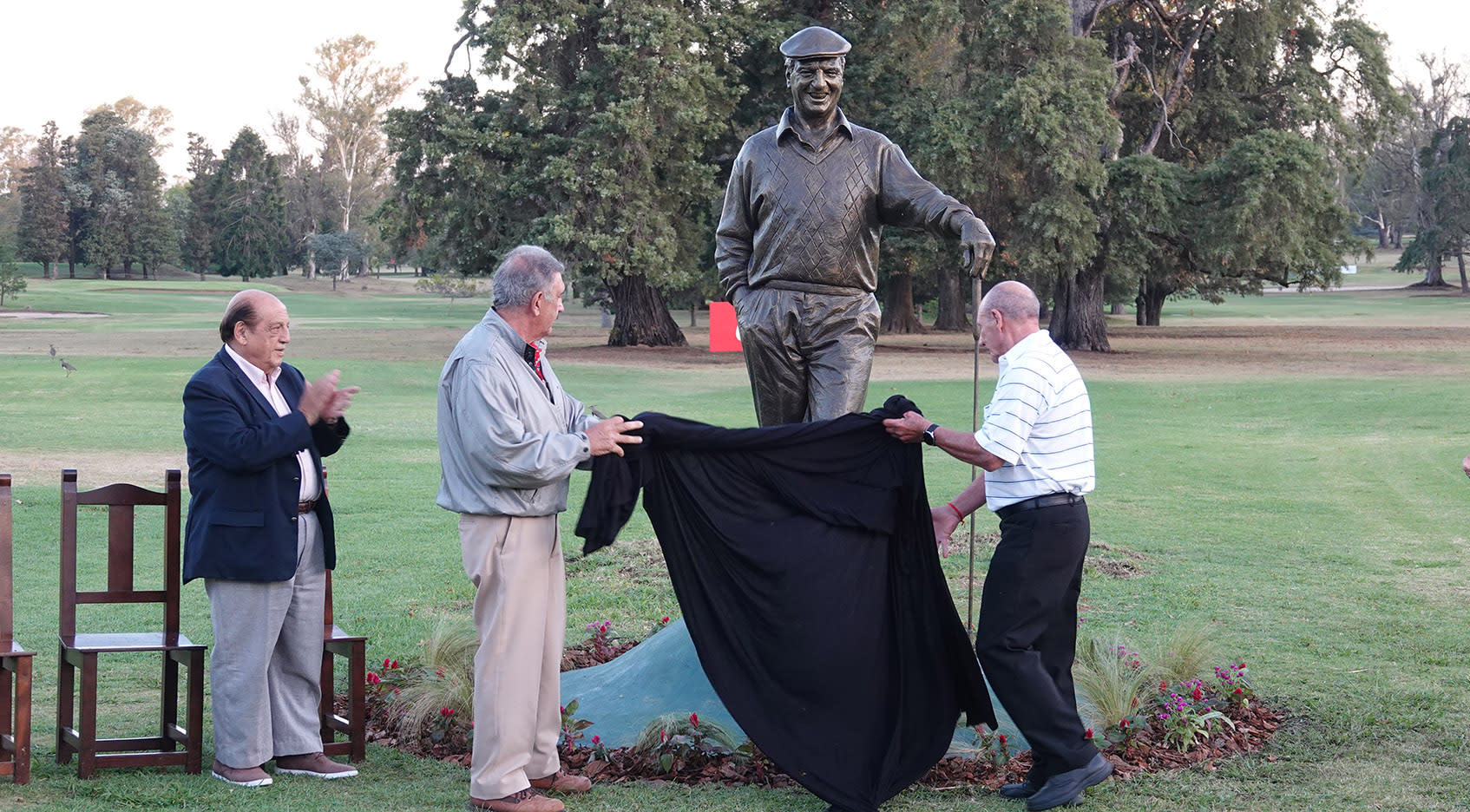 Immediately after Saturday's third round, as fans gathered near the statue, De Vicenzo's two sons, Ricardo and Eduardo, pulled away the black draping for the assembled crowd to see, with a permanent memory of De Vicenzo now in place at the place where De Vicenzo learned the game. Many in attendance only knew El Maestro by reputation. Some, like club president Paul Morey, knew De Vicenzo well.
Morey, now in his third different term as club president, joined Ranelagh as a junior member, at age 10, in 1963. Not long afterward, he met De Vicenzo and soon found himself drawn to the driving range, where, instead of playing himself, Morey would sit and watch De Vicenzo hit balls. Later, Morey, a certified public accountant for several different petroleum companies and an accomplished amateur player, served as De Vicenzo's personal secretary, helping him answer correspondence and perform other duties as De Vicenzo toured around the world.
Finding a way to honor his friend had always been on Morey's mind.
"To be honest, we had thought that someday we should have a statue of Roberto here," Morey said of the club's long-term plans. When PGA TOUR Latinoamérica enquired about having a tournament commemorating what would have been De Vicenzo's 100th birthday, that propelled the thought of a statue into a higher gear. "This tournament made our plans a reality, and it was the idea that this is the moment we needed. Everything took off very fast."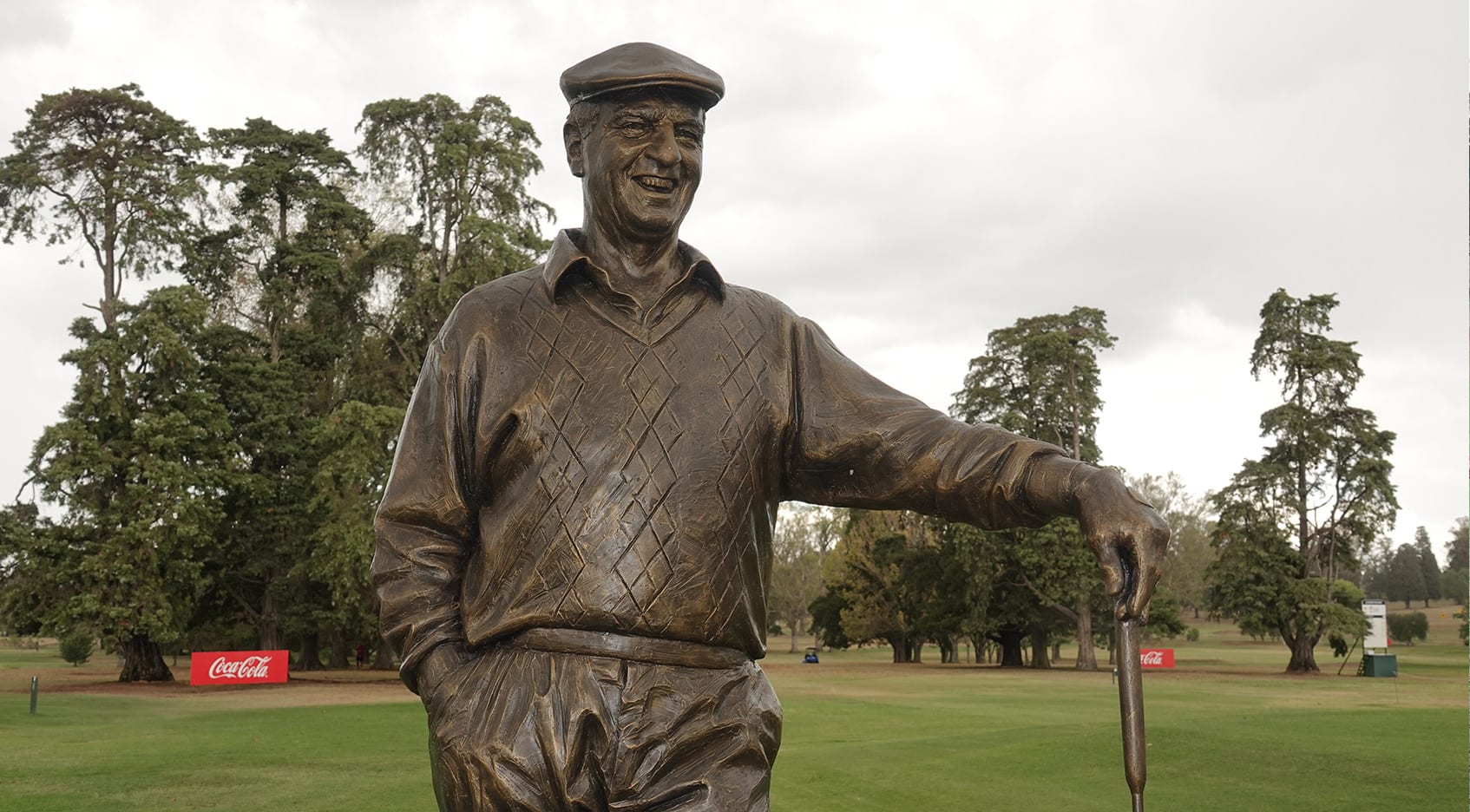 As club president, Morey contacted Carlos Benavídez, who had also created statues for Argentine soccer player Diego Maradona, tennis player Gabriela Sabatini and boxer Carlos Monzón. He was immediately interested in the project. Although not a golfer, Benavídez told Morey he had met De Vicenzo for the first time only a few months before his death, in June 2017, giving him something of a personal connection. Benavídez assured Morey he could complete the statue prior to the tournament. All he asked his client was how he would like De Vicenzo depicted.
"We didn't want Roberto depicted with the finish of a golf swing. We wanted something different," Morey admitted. Morey fondly remembered how De Vicenzo would come to the club and watch members play, often standing with a driver in hand. In his mind he could see De Vicenzo, so Morey went in search of a photo. He found one in a commemorative Jockey Club book.
"He was standing there with his legs crossed and leaning on the club. 'That's the one,' I said. I then told the sculptor this is what we needed."
Benavidez's requests were minimal. He asked to keep that book, with the photo, and he said he required a model for an hour, who would dress as De Vicenzo. Morey raised his hand, and a few days later he put on wider pants, the style De Vicenzo preferred, wore a baggier shirt and added the De Vicenzo-preferred flat cap. Off to the studio Morey went.
"For 40 minutes, [Benavidez] took pictures of me. He walked all around taking photos of every single angle. He needed to see how the pants and shirt creased," Morey remembered.
Benavidez wanted things perfectly, and for about an hour, Morey was his idol.
A few weeks ago, Benavídez phoned Morey and asked him to come to his studio. The statue, fashioned out of clay and resin but made to look like bronze, was almost completed. The artist wanted feedback. Morey admits he felt a bit of trepidation on his drive to Benavídez's Buenos Aires studio.
"To be honest, I was very scared it wouldn't look like Roberto. That was my main concern," Morey explained. "I went and wondered what I was going to find here. I walked in, and he said, 'Come on, I'll show you.'"
"My first impression was as if I was looking at Roberto," Morey said, scared no longer. "It's not easy to do the face, to get the right expression. This statue for me has the right expression. It's really fantastic, really fantastic."
An anonymous club member paid Benavídez's fee, and late last week, the sculptor and his two sons brought the 7-foot-1-inch statue to the course for installation on a cement base. It's about a foot taller than De Vicenzo was in real life. After the cement cured, the club painted the base green and planted flowers around it in preparation for the ceremony.
Late Saturday afternoon, playing in the final group of the day, Argentine Andres Romero finished his third round and later walked past the statue. The moment was not lost on the former PGA TOUR winner, currently trailing by one shot with 18 holes to play.
"This is a very special tournament for me because although I didn't see Roberto (De Vicenzo) play, it's clear that he was the best Argentine player in history and winning his tournament would be something very special," Romero said. "I saw Roberto give a clinic in Tucumán when I was only nine years old, and he inspired me from the very beginning."
Added Morey, "I think it's another honor that we are giving Roberto for what he meant to Ranelagh, for what he meant for golf in Argentina and for what he meant for golf around the world."