Archive
John VanDerLaan rolls to Valspar with winning memories
Finished top-10 at Puerto Rico Open to earn start; also won a college event at Innisbrook
Innisbrook Resort's Copperhead Course is plenty difficult. The Snake Pit stretch of holes often leaves the PGA TOUR's best, well, snakebit. It's a tight design with trouble lurking. A true championship test.
But John VanDerLaan doesn't mind.
He earned a spot in this week's Valspar Championship at Innisbrook after notching a tie for seventh at the Puerto Rico Open – his first TOUR top-10 – and is back at a spot which provides a high comfort level.
"My senior year of college, we had a tournament (Copperhead Championship) on the Copperhead Course," said VanDerLaan, who played at Florida Southern, "and I won the tournament."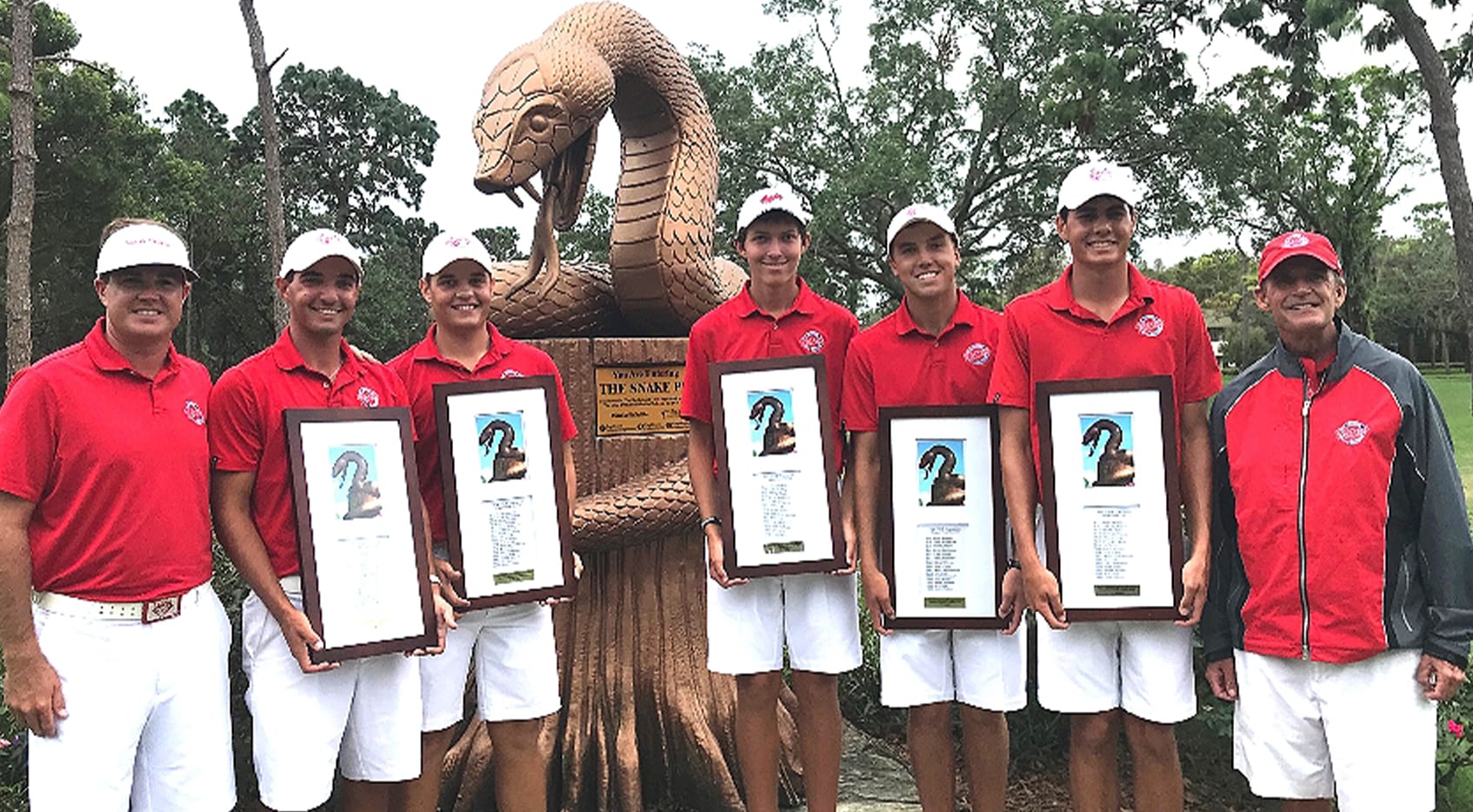 Photo: Florida Southern Athletics
VanDerLaan, who sits 37th on the Korn Ferry Tour Points List on account of two top-25 results, is 2-for-2 in PGA TOUR cuts made this season (he also finished tied for 35th at the Butterfield Bermuda Championship) and is inching closer to earning Special Temporary Membership.
Funny enough, he almost didn't go to the qualifier for Puerto Rico. It was a busy stretch early in 2023 and he was keen to spend a little time at home to recharge before another sprint through the summer. He also got engaged to his long-time girlfriend, Hannah, over the winter holiday season, and spending time with her and his family was on the top of his list.
Hannah, however, encouraged him to go to the qualifier for Puerto Rico.
VanDerLaan, of course, made it through – although the Monday qualifier ended on Tuesday and he didn't arrive until Tuesday night, meaning no practice round. His first spin around the course was for Thursday's 69 – and he credits his fiancée for how things unfolded.
"We've been together for a little over seven years now and she's … my rock. She's my biggest supporter. She works remotely in accounting, so she travels with me just about every week," said VanDerLaan. The couple is set to be wed in December just outside of Naples, Florida. "She said, 'Why don't you go to the Puerto Rico (qualifier), because you never know what might happen?' She gets a lot of credit for that one."
VanDerLaan did indeed get to have that time with family and friends last week, where he celebrated his career-best TOUR finish.
Now he's back out on TOUR with another chance to earn some valuable FedExCup points. VanDerLaan said the solid result in Puerto Rico didn't come as a shock, per se – he was playing well for a while, was in a good spot with his swing after a strong practice session with his coach following the most recent Korn Ferry Tour event, and his putting had been solid all year. It was just a matter of executing on his game plan to string four good rounds together.
This marks VanDerLaan's first TOUR start in the continental United States since the 2018 Barbasol Championship (where he also made the cut, finishing T31). Early-week at Innisbrook, he's been walking around a little wide-eyed.
"The infrastructure of a PGA TOUR event and all the fans even out there on a Tuesday is something I'm going to have to get comfortable with over the course of the next few days and try to attack (the course) with the same game plan as I would any other day," admitted VanDerLaan.
As he builds TOUR reps, though, the comfort level builds as well.
"One of the interesting things I've told some people about is that this is my third Korn Ferry Tour season, and every PGA TOUR event I've qualified for, it's crazy the number of guys I'm used to seeing at events because of being on the Korn Ferry Tour the last few years," said VanDerLaan. "It's another level of comfort. It's like, 'Man, this is where I should be.' I know I can compete, so it gives me an extra layer of comfort some other qualifiers might not have."
VanDerLaan is also swinging freely this week because he knows exactly where he'll be for the balance of the year – even if things at Innisbrook go sideways. His goal for the season was to get a PGA TOUR card, however that happens. Whether it's via a Three-Victory Promotion, a top-30 spot on the season-long points race, or even TOUR Special Temporary Membership, he's not picky regarding the road taken.
"Just knowing that I can go rip it up on the Korn Ferry Tour the rest of the season… I'll get a bunch of confidence coming there from a top-10 finish at a TOUR event," said VanDerLaan. "It's something I've believed in myself for a long time, but to go out there and prove it to everyone else in the world with a top-10 on TOUR, I know I can be there and compete week-in and week-out. I've got a lot of confidence for the Korn Ferry Tour season now. There's been nothing but good things."